Photo sharing website score card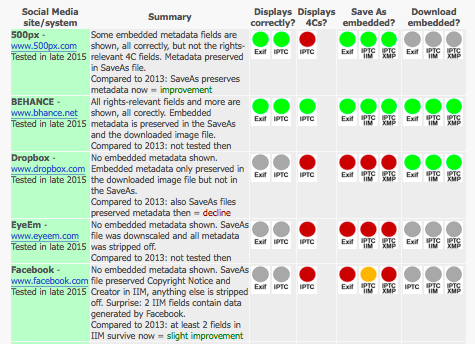 Most of us like to post photos on the web, and we all do it for various reasons. However, I suspect you are not sharing these photos with the intention of giving them away, so someone else can take ownership of them... That is precisely what happens on daily basis, whether it's nefarious or not, it happens. Your only defence, providing you still want to post photos on the web, is to either watermark the images, or use the IPTC (International Press and Telecommunications) protocols in the metadata of your photos. These are easily added with such tools as Photo Mechanic, Adobe Bridge, Photoshop and Lightroom.
However, the majority of photo sharing websites do not honour these IPTC protocols, and many actively strip off this metadata...grim, isn't it.
The wonderful folks at EmbedMetadata.org, do an annual review of photo sharing sites to test what they do to your metadata, here are the 2015 results.
Beware.
http://www.embeddedmetadata.org/social-media-test-results.php